About Puerto Viejo
General information
Puerto Viejo is officially called Puerto Viejo de Talamanca, as that is the area in which it is located. It is a small coastal town with very strong Caribbean influences as many of its inhabitants are Jamaican or from Jamaican descent. This Caribbean influence is part of what makes Puerto Viejo such an attractive place to visit. The vibe is very laid-back and the inhabitants are very friendly and welcoming.
You will immediately feel the relaxed vibe when entering Puerto Viejo. Surfers catching waves while tourists and locals relax on the beach and watch them, people enjoying food and drinks at the restaurants and bars and tourists scouring the local stalls is what you will see when walking through Puerto Viejo. When walking through the center expect to hear a lot of reggae or reggae-influenced music coming from the bars, restaurants and shops.
To get an impression of the Caribbean vibe watch this music video about Puerto Viejo!
What to do in Puerto Viejo
Activities
Puerto Viejo offers a wide variety of activities, either in Puerto Viejo itself or places nearby. The activitives can be very simple and closeby such as taking a surf lesson, horseback riding along the beach, snorkeling at one of the beaches nearby and visiting the Jaguar Rescue Center to see rescued animals such as jaguars, sloths, monkeys, etc.
It is also possible to take tours to places nearby, such as turtle watching at night, white river rafting on the Pacuare river, hiking through the Chocalate Forest and experiencing how chocolate is made and much more. If you visit our tour company's website, Caribe Fun Tours, you will find there are a lot of activities to do and possibilities to combine some of these activities too.
Nightlife
Puerto Viejo has something going on almost every night. On Monday's there's a ladies night at Mango, on Tuesday the main party is at Tasty Waves, Wednesday is open mic night at Hot Rock's, Friday and Saturday are evenings where everyone prefers something else but most people end up going to Lazy Mon and Sunday is usually the day for reggae night at Salsa Brava. Every week something else is going on so it is recommended to ask the staff at the hotel where to go that evening. Check out this page for an overview of the best bars in town.
8 Reasons to Visit Costa Rica's Caribbean Coast
As the road emerges from the cloud forests and descends to sea level, thousands of banana trees consume the horizon. Wildflowers and tropical fruit spill onto the pavement and perfume the warm, moist air. Howler monkeys growl and Reggae music mingles with the layered symphony of the jungle. The coastline emerges, an endless curve of golden sand that bleeds into sparkling black powder, kissed by the turquoise sea.
This is Costa Rica with a Caribbean accent. Where Latin and Caribbean culture converge. Where Salsa and Calypso play in harmony, Spanish and Jamaican Creole interweave, and Rastafarians dish West Indian curry beside coconut scented rice and beans. This is Costa Rica with pounding surf and calm crystalline waters dotted with vibrant coral reef. Where sloths cause traffic jams and colorful butterflies land on your feet. This is the Costa Rica made of dreams.
Once upon a time only fanatical surfers and dedicated environmentalists made their way to the rugged undeveloped Caribbean coast. Today a clean paved road connects the capital city of San Jose to the Southern Caribbean towns, just a few hours away, offering easy access to paradise. Now is the time to explore the less touristy side of Costa Rica. Here are the top reasons why:



Costa Rica's South Caribbean beaches are arguably the most beautiful in the country, if not the world. They feel undeniably Caribbean with warm turquoise water and pale golden sand that shimmers in the sunlight. Swaying palms and almond trees provide shade for sunbathers and coral reef forms natural pools where colorful fish congregate and swimmers bathe. These coral reef formations lend diversity to the beaches, making some ideal for snorkeling and swimming and others great for surf. Most of the beaches remain entirely undeveloped, backed by thick jungle, and one can easily walk for miles without seeing another human.



Unlike the rest of the country, the Caribbean does not have a distinct dry or rainy season, which means the jungle remains lush and full of life year round. With scarce development, the Caribbean Coast is lined with untouched national park teeming with wildlife. The Manzanillo Wildlife Refuge sprawls all the way to Panama, covering fifty square miles of land with undeveloped wild jungle. Trails snake up to lookout points then emerge onto wilderness beaches and into bat caves made of coral. Further north, the Cahuita National Park is one of the most beloved places in Costa Rica for wildlife. This protected zone provides a habitat for white faced and howler monkeys, agouti, sloths, poison dart frogs, and a variety of tropical birds.



For decades intrepid surfers from across the world have flocked to the South Caribbean town of Puerto Viejo to ride the famous Hawaiian style break Salsa Brava. Thrill seekers get their kicks riding this fast, powerful, shallow reef break nicknamed "the cheesegrater". The beach towns surrounding Puerto Viejo each offer their own unique waves for surfers of all levels, from the fun, kid friendly, beginner waves in Cahuita, Playa Negra and Punta Uva to big challenging barrels in Limon, Beach Break, and Manzanillo.



When the surf flattens out the calm Caribbean water offer exceptional diving and snorkeling opportunities. Costa Rica's only remaining live coral reef systems protect the South Caribbean beaches and house hundreds of species of tropical fish, dozens of types of coral, and even dolphins and reef sharks. In the beaches of Punta Uva, Manzanillo, and in the Cahuita National Park, snorkelers can explore right off the beach making underwater exploration as easy as renting a mask. Boat tours take snorkelers to more remote reef, particularly at Punta Mona with even more abundant underwater life. Divers can explore twenty different dive sites surrounding Manzanillo and Punta Uva, from shallow coral gardens to impressive vertical walls swarming with colorful fish.



The South Caribbean enjoys a vibrant culture completely unique from the rest of the country. Inhabitants from the Caribbean islands, local indigenous communities, European restaurateurs and hoteliers, North American expats, and South American traveler hippies, each lend a special flavor to this melting pot. A short drive into the countryside and travelers will discover the indigenous communities who produce beautiful arts and crafts they sell in the markets. In the South Caribbean beach towns Rastafarian culture abounds with Reggae music, Calypso dancing, and heaping bowls of Caribbean lobster stew. Thanks to the foreign transplants the South Caribbean has world-class international cuisine like Argentinean steak, homemade pita bread, wood fired pizza, handmade ravioli, and fresh flavorful sushi rolls. Musicians and performers come from all over the world to Puerto Viejo, creating lively nights with fire dancing and international music.



Some of the richest, purest chocolate comes from the jungle hills in Costa Rica's Caribbean. Consequently, internationally renowned chocolate makers have established businesses working with the local cacao farmers to produce exceptionally delicious chocolate treats. In the South Caribbean you can tour the sustainable cacao farms, learn how to make your own chocolate, and sample a wide variety of chocolate made from locally sourced, fair trade cacao.

Costa Rica has a reputation for being one of the healthiest places in the world, and the Caribbean Coast is a great place for those seeking wellness. The South Caribbean has several yoga studios, a yoga retreat center, a gym, and plenty of outdoor activities for physical fitness. Organic and vegetarian restaurants are scattered along the coast and the farmer's market in Puerto Viejo offer access to organic fruit, vegetables, homemade local cheese, probiotic foods, free range eggs, and plenty of healthy treats. In Playa Chiquita there is a health and wellness center offering cooking workshops, detoxification retreats, and full service holistic treatment for diseases including cancer. This established health community in conjunction with the abundant nature and clean air makes the South Caribbean an excellent place for healing.



Few things could be better than curling up in a hammock with a fresh young coconut and simply taking in your surroundings. With swaying palm trees, warm tranquil water, and the sounds of the jungle, the Caribbean is the ideal place to just chill out.
Caribbean vs. Pacific
Which Coast in Costa Rica is Right For You?
by Camille Willemain

I'll never forget the culture shock I felt when I got off the ferry and landed in the Pacific Coastal town of Montezuma. It wasn't the narrow dirt roads, the Spanish speaking taxi driver, nor the wild undeveloped territory that surrounded me. All of that was normal.
I had been living for the last month in a beach cabin on Costa Rica's South Caribbean coast, and it baffled me that another beach town within the same country could feel so different. From the color of the sand to the type of vegetation, I recognized nothing. The food, the accent, and the music, all felt different. It was like I had entered another country. That was the greatest shock of all.
Since then I've traveled from coast to coast in Costa Rica over twelve times. It still amazes me how different the Caribbean feels compared to the Pacific. Though they may be different, I love both dearly. Here's why:



The Pacific: Consistent Surf
Perfect waves grace popular Pacific coastal towns like Tamarindo, Dominical, and Nosara. These clean, consistent sets, have made Costa Rica a worldwide surf destination for anyone from beginners to pros. The Caribbean beach town of Puerto Viejo has plenty of surf spots and the notorious Hawaiian style reef break Salsa Brava, but they're expert level and hard to predict.



The Caribbean: Live Coral Reef
The South Caribbean beaches of Cahuita, Punta Uva, and Manzanillo are surrounded by the last living coral reef in Costa Rica. Surfers may suffer when the sea flattens out, but it's paradise for divers and snorkelers who can spot colorful fish, reef sharks, and even dolphins.

The Pacific: Predictable Weather
If you want a guaranteed sunny vacation, head to the Pacific. From late November through March, in many areas it never rains at all. Of course during the rainy season it can pour for days, but you know what you're signing up for. In the Caribbean, you may get lucky and have gorgeous sunshine in the rainy season, and no sun at all in the dry season. The good news is, when the rain is pouring on the Pacific, the odds are good that it's sunny on the Caribbean.



The Caribbean: Lush Jungle Year Round
Since there's never a truly "dry" season, that means the vegetation on the Caribbean stays lush and green year round. By contrast, the Pacific can dry up and become incredibly dusty. Rain creates a lush jungle which means active wildlife and better shade on beaches.



The Pacific: Gorgeous Sunsets
Easily my favorite thing about Pacific coast beaches in Costa Rica, is the spectacular sunsets. Every evening during the dry season, you can watch the fiery sun lower behind the ocean, and paint the sky in purple, red, orange, and gold hues. It's a wonderful time to connect with the community on the beach, or sit alone and feel humbled by the beauty.



The Caribbean: Stunning Sunrises
You may quickly find yourself converting into a morning person when the sun rises on the beach before 6am. It's hard for me to imagine a more peaceful, joyful way to start the morning than by swimming in the ocean under its glow. Few people come to the beach this early, making it easy to feel like you're the only person on earth.



The Pacific: First World Comforts
Despite being in the tropics of Central America, the Pacific coast beach towns have many comforts from the Western world. Shops carry popular North American brands, hotels have air conditioning and swimming pools, and most people speak English. If you're nervous about traveling in Costa Rica, the Pacific coast is a great place to get your feet wet before treading into deeper waters.

The Caribbean: Unique Culture
Costa Rica's Caribbean enjoys a vibrant culture completely unique from the rest of the country. Inhabitants from the Caribbean islands, local indigenous communities, European restaurateurs and hoteliers, North American expats, and South American traveler hippies, each lend a special flavor to this melting pot. You can expect to hear Spanish, Indigenous languages, Jamaican Creole, French, German, and Italian spoken in the streets, eat spicy lobster coconut curry, excellent pizza, and homemade gelato, and listen to Spanish guitar or Calypso.



The Pacific: The Easy Life
Life on the Pacific is alluringly easy. Most towns are relatively safe, the weather is predictable, and most cultural differences aren't a huge issue. If you're looking to relax, catch some nice waves, and have a cold cerveza with the sunset, head to this side.

The Caribbean: The Wild Life
If predictability makes you cringe, and adventure is what you're after, you'll love the untamed Caribbean. Follow a blue morpho butterfly into the tangled jungle, hide out a rainstorm under a palm tree on the beach, get your hair wrapped by an Argentinean hippie, shake your booty to some Reggaeton, and learn to hula hoop or throw fire. Welcome to the wild side.
About the author: Camille Willemain
In February 2012 I sold all of my belongings and took a one way flight to Costa Rica. I haven't stopped traveling since. Join me, Camille Willemain, in my adventures as a young single woman discovering peace, balance and fun around the world.
Check out Camille's new eBook, The Ultimate (Unconventional) Guide to Costa Rica, for travel recommendations, beautiful photos, and stories of her journey.

Getting To Banana Azul
Airport Arrival; First of all it is important you have a valid passport. You do not need a Visa to enter Costa Rica from most countries. If you are unsure, please contact the Costa Rica consulate or check here for an overview.
Staying Overnight in San José


Private Airport Pick Up & Drop Off
When I come and go from the airport, I hire my own private driver. I find it easier traveling with someone I know. It is approximately the same price. I have been using Manuel Acuna for years. He has a newer Toyota Camry and can arrange a van if needed. He checks flight arrival times and will meet you at exit gate with your name on a sign. Cost is $32 up to 3 persons. Service is 24 hours. For more information about this service, check here.
Taxi
Costa Rica airport has no indoor public areas. All people waiting for arrivals and all taxis and tour operators have to wait outside the main exit door. When you get out of the secured area, there will no doubt be people trying to sell you a ride to your hotel or anywhere else in Costa Rica. These are usually unauthorized people and unless you are used to negotiating with these people, we do not recommend you travel with them. Chances are it will be no cheaper than using one of the Orange Airport Taxis (approx. $30).
Public Bus
For adventurous and more seasoned travelers, I recommend the public bus. Just ignore all the taxis and walk out on to street right in front of airport terminal. You will see a public transit stand. Almost every bus there is heading to downtown San Jose. Make sure you ask the driver. The cost is about 75 cents. If you have no colones yet, give them 1 US dollar. Tell the bus driver where you are going and "hopefully" he will drop you off at the closest spot. Then get in a taxi (they are usually red) and get local taxi to take you to your hotel or bus station. Make sure the meter is on, which in Costa Rica is referred to as "Maria". The absolute most it should be for anywhere in downtown is $5.
San Jose Hotel
Most people that come to Costa Rica always do at least one night in San Jose – Either upon arrival or when exiting the country. Many people ask for a hotel recommendation.
There are other hotels listed here that we deal with that might appeal to you depending on your needs.



San José to Puerto Viejo


Public transport or private driver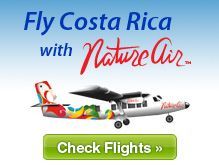 By Plane
Nature Air now offers daily flights from San Jose to Puerto Viejo. This is a great option to get to the Caribbean fast! Click here for schedule, prices and other details.

Bus Ticket Service
We have a service that offers pick up from the airport with your bus ticket already purchased, which guarantees a seat on the bus. After being met at the airport you will be brought to your bus terminal in San Jose. The driver will make sure you get on the bus without any problems.
Private Driver
We can arrange a private driver pick you up at airport. He will be standing there with a sign with your name on it. They come in vans and the drivers speak English well. The cost is $245 and can be up to 6 persons. This is ideal for more than 2 persons and as they will have a lot of luggage.

Public Bus to Puerto Viejo
Take a taxi to Atlantico Norte Station in Barrio Mexico, near downtown San Jose. The bus company is called MEPE, which most taxi drivers know. Note there are 3 main terminals in San Jose and it is very important you go to the Atlantico Norte Station. At the station, you go to ticket counter behind all food outlets. You ask then for ticket to Puerto Viejo Talamanca. Please note there is another Puerto Viejo in Siquerres and you do not want that bus. Ticket cost is approx $9.There are 5 buses a day (6:00 am, 10:00 am, 12 noon, 2:00 pm & 4:00 pm).
There is one rest stop just outside of Limon for a bathroom and drink break). Count on needing at least two hours from plane arrival to go through customs and get a taxi from airport to bus station. For example; If your plane arrives at 12:30 in the day time, you will have to look at catching 4:00 pm bus.
There is full bus schedules (including local buses for Talamanca region) for the whole area located at this link.
Take bus right into town of Puerto Viejo (final stop), there will be taxis waiting to offer you a ride. The maximum cost should be $5 (2500 Colones) to Banana Azul and Casa Las Brisas. It is a light 20-30 minute walk if you can manage your luggage ok. (note; negotiate cab rate before getting in as all cars here have no meters). Just give them instructions as above.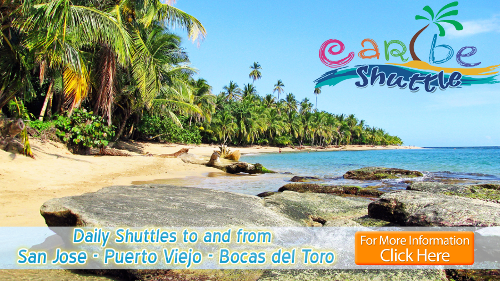 Tourist Shuttles
These are small air-conditioned tourist shuttles and cost about $45 per person each way. They will pick you up (hotel/airport) and drop you off at your door. They can be really great when you are tight for airport times. Our in house tour company, Caribe Fun Tours can arrange Shuttles for you. For a complete list of prices, departure times, and destinations please check here.


Renting a car
Most rental cars will arrange to pick you up at airport or have a shuttle bus for the bigger companies. NOTE – most guests swear by the added expense of GPS! If you get lost in San Jose, best to pay a Taxi to lead you to the Highway to Limon.

If people are interested in renting cars our customers have great experience with Adobe in Puerto Viejo. They have no problem dropping off and picking up car at Banana Azul. Car rentals with Adobe can be arranged here. So, if there is a problem with the car, it is easy to change. You can also pick up or drop off a car at the airport or other locations.
Your car rental company will give you a map and there are signs on how to get to downtown San Jose. Driving to Puerto Viejo is really easy. You will have to find the highway to Limon. It has easy access from downtown and once you are on that highway, it is almost impossible to get lost. It is always a good idea to check the current road conditions to make sure Ruta 32 is open.
It is important that you know that you will encounter multiple radar speed traps. If you do not want to be pulled over, you need to watch all the speed limit signs. If you get pulled over, just agree to pay the fine. The rental car company will add it to your bill. It is common for police to try and scare you into paying them money by telling you they will take the vehicle or plates. Just stick to your guns and tell them to write you the ticket. If you are really good at it, you can many times talk your way out of it.
Please note: If you have not left San Jose by 2:00pm in afternoon, you will be driving part of the way at night. We do not recommend this for first time travelers in driving in Costa Rica. Some roads do not have lines. Rain can be bad and there are potholes and people walking/cycling that you can not see very well.
You will first go through the mountains and will be very high up. It is likely that you will encounter fog (clouds) and rain. Please drive with your lights on. Most of the local drivers do not.
The drive through the mountains is beautiful. You will see many vistas and real rain forest jungle. As you are about to exit mountains into flat land (just after a bunch of ugly billboards) there is a restaurant on your right (usually with many trucks out front). It is called El Yugo. It is okay for a roadside stop, but my absolute favorite is Roberto's Ranchojust a little further down on the left at the corner of Route 32 & #4. Sit down service, great Costa Rican Food & Very secure parking.It is also a good break after about 1.5 hours into the trip.
The road from there to Limon (approx 2 hrs) is practically straight with no hills. It is small towns and banana plantations. Please note there are many trucks as Limon is a port city and this is the truck route. Also note, you will see a sign or two for Puerto Viejo on the way to Limon. This is not the correct Puerto Viejo. You have to reach Limon and drive down coast. (also note on this stretch, there are many speed traps and local cops love foreigners as it can mean a free lunch at a better restaurant)
When you hit Limon, just before you enter city centre you will see a sign (at the Colono gas Station) where you turn right to go to Puerto Viejo. From that sign you just follow the coast all the way down (approx 1 hour). The drive is beautiful (but mind the pot holes).
After about 1 hour of driving, you will come to the little town of Hone Creek. At that point your about 5 kilometers from the turn off to Banana Azul .You will drive past a hardware store called San Francisco. A few hundred meters past the hardware store is a bus stop with a roof on it, (right across the street from corner store Pulperia Violetta). At the bus stop take a left and follow along beach. If you passed the Point Bar & Grill, you just missed the turn off.
And to get to Banana Azul you just proceed along beach until you come to La Perla Negra Hotel. Banana Azul is 200 meters past Perla Negra Hotel and has a wooden gate with a sign.
I am sorry if all this seems a bit much, but I just wanted to try and give people as much info as possible. Many people seem to have much anxiety about getting here. Just relax. It's easy.
Cheers,
Colin and Banana Azul Staff